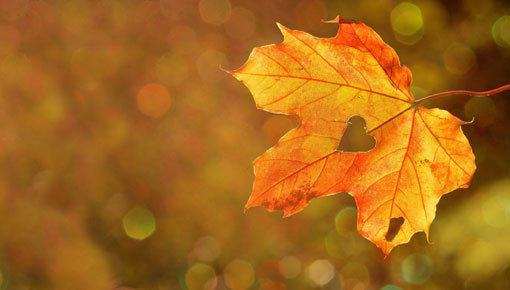 Prepare your skin for autumn
More artificial heating and less sun have direct impact on your skin. Therefore restyle your skin care routine when autumn starts!
Your skin has had to endure a lot during the summer. Sun, sea, chlorinated water, air conditioning and perspiration are all factors that dry out the skin. After the summer vacation we are mentally and physically recharged, but our skin is ready for vacation... The fact that summer is reaching its end is actually good news for your skin!
Autumn is a transition period for the skin from summer to winter. Your skin care must repair the damage of the summer and prepare your skin for the winter.
When autumn starts, it is therefore good to take a closer look at your skin care routine. More artificial heating and less sun have a great impact on the skin. By adjusting your skin care routine, you prevent your skin from becoming drier and more sensitive.
More intensive care can also help prevent skin complaints such as acne, atopic eczema and psoriasis from getting worse due to drier air and lack of vitamin D.
Be kind to your skin barrier
Your skin is made up of three layers: the epidermis, the dermis and the connective tissue layer. The skin barrier is located in the epidermis. This consists of a combination of skin cells and skin fats that protect you against external influences such as cold, wind, dehydration, bacteria and fungi (also with regard to acne). Crucial for maintaining healthy skin!
With a healthy skin barrier, the skin feels soft and supple and is strong enough to protect you against external influences. With a damaged skin barrier, the skin feels rough, irritated and itchy and has a red appearance. If the skin barrier is damaged, the skin is open, so to speak; your skin loses more moisture and dries out. Then it is also more likely that bacteria, fungi and viruses will enter your skin, causing irritation and hypersensitivity reactions to ingredients from skincare products.
The main causes of a damaged skin barrier are:
1. Showering too hot and too long
Hot water causes the skin to get rid of natural skin fats, making the skin barrier more vulnerable. The ideal shower temperature is 37 to 38 degrees. When your skin turns red you are sure that you shower too hot... And always get out of the bath before your skin starts to wrinkle!
2. The sun
The skin barrier can also be damaged by UV radiation. Therefore you must protect your skin 365 days a year against the sun. Use a day cream with a minimum of SPF-20 and rich in antioxidants (eg vitamins C and E) every morning.
3. Mineral oils and alcohol denat
Skin care products based on mineral oils are insidious. They are inexpensive, easily available and are stubbornly promoted by large brands with high advertising budgets. Unfortunately, the consequences of their use are also common: people who have an allergic reaction to products are no longer unique.
Products based on mineral oils can feel very comfortable on the skin, but do not contain essential fatty acids, ceramides, cholesterol or vitamins that are needed to strengthen the skin barrier. Vegetable oils do contain these vital ingredients.
Mineral oils are described differently on ingredient lists: Paraffinum Perliquidum, Light Liquid Paraffin, Light Mineral Oil, Liquid Paraffin, Liquid Petrolatum, Liquid, Paraffinum Subliquidum, Paraffin Oil, White Oil, White Mineral Oil, Paraffin, Petrolatum.
Products with alcohol denat (SD alcohol, ethanol, ethyl alcohol, methanol, benzyl alcohol, isopropyl alcohol) can also seriously damage the skin barrier and dry out the skin. Fatty alcohols, on the other hand, are good for the skin, which improves its moisture retaining ability (cetyl alcohol, ceteary alcohol, myristyl alcohol and behenyl alcohol).
H&B products are free from mineral oils and alcohol denat.
Tips for your autumn routine
Every skin is different, a certain cleanser, serum or face cream can be the ultimate for one person, but may not be for the other. Watch your skin and see how it reacts to products, especially at the change of the seasons. Adjust, alternate. Of course you can always contact us for further advice.
Dry, tight skin after cleansing
If you have dry, tight skin after washing your face, you can do the following:
In this way you limit the use of water, so you have less chance of dry skin. Besides, the softer your water, the better for your skin.
By expanding your daily routine with a Serum you can provide your skin with skin-repairing ingredients even more effectively. Certainly during the transition from summer to fall, your skin may require more; do not hesitate to apply your creams several times (temporarily).
Exfoliate
From your thirties onwards the skin starts to find it more difficult to shed dead skin cells naturally and evenly. This can result in accumulations of cells that make the skin look dull, uneven and restless. By using a mild Facial Peeling once a week you help the skin with this recovery process and you prevent impurities, even in autumn. In this way skin-repairing ingredients can also be better absorbed by the skin.
Do you react strongly to a peeling with fine grains? Then switch to the Unique Peeling Gel or lower the frequency of use.
Vegetable fatty acids, hyaluronic acid, collagen, vitamin C+E
Collagen and hyaluronic acid improve the skin's ability to retain moisture. The antioxidant vitamins C and E promote the recovery of the skin barrier. Vegetable fatty acids (omega 3 + 6) strengthen the skin barrier, keep the skin supple, fight inflammation, stimulate wound healing and fight free radicals. All H&B face products contain combinations of these ingredients (which can be found in the product descriptions).
Body care
During autumn it is very important to hydrate your skin. After a shower or bath, don't forget to apply enough body butter or cream. Do not skip the extra dry parts such as shins, feet, knees and elbows!
Always take a hand cream with you when you go somewhere, so that you can rub your hands regularly. This prevents chapped skin and keeps your skin nice and smooth.
Drink enough
In addition to hydrating from the outside, it is just as important to do this from the inside. Therefore, drink enough water so that your skin is better able to remove waste and looks less dull.