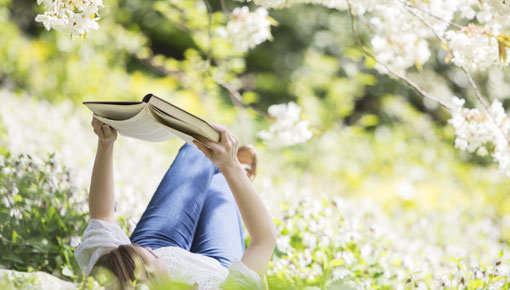 Spring Skin Care
At the end of winter we can usually use a boost. With these 7 tips you will be ready for spring in no time. Let the sun come!
Lack of sunlight in combination with excessive artificial heat and long, hot showers often means that the skin does not emerge optimally from the winter, despite our efforts. No worries! With these seven tips you can make your skin shine again in no time, get your body back in shape again and awaken your mind:


1. Switch to lighter face creams
In the winter we like to use rich creams for dry or dehydrated skin. But in the spring it is wise to opt for lighter moisturizers. For example, if you use the collagen day and night cream in the winter period, switch to the pomegranate series or an anti-wrinkle day cream and a firming night cream.

If you want more precise advice about which cream is suitable for you, please contact us.


2. Use a peeling

Changing temperatures and dry air that are characteristic of the winter (cold outside, warm inside) do no good to the skin. When the temperatures rise again in the spring and the humidity increases, it is a good time to pamper your skin. Regular exfoliation removes dead skin cells from your skin and stimulates blood circulation, resulting in a smoother, healthier and more radiant complexion.

If you have sensitive skin or suffer from acne, choose the Unique Peeling Gel. If you have oily skin, the Mud Peeling in combination with a Mud Mask is very suitable. You can remove this after it has dried with lukewarm water in circular movements for an extra peeling effect. For other skin types, we recommend the Peeling with Orange Oil and the Peeling Mask. Or a combination of the two masks (the Art of Multi-Masking).

3. Make the most of the spring sun, but protect your skin ...
Your skin produces more vitamin D in the sun, but it is very important to use a good UV filter. Don't underestimate the power of the spring sun! So always use a day cream with an SPF 20. The sun also produces free radicals, so use nourishing products with many antioxidants (for example the Pomegranate Day Cream or the Sea Buckthorn Day Cream) that prevent skin aging.

4. Ensure a good night's sleep


A good night's sleep is also called 'beauty sleep'. And that is for a reason! Your body will recover during the night's rest. Let your skin also benefit from this restorative effect by cleaning it every evening and taking care of it with a Serum and a Night Cream. The eye contour area also deserves attention. It is there that the first signs of fatigue are visible.



5. Drink plenty of water

The 'drying' effect of winter and cold is not limited to the skin, but has its impact on the entire body. Therefore drink plenty of water and light herbal tea (eg green tea with ginger or lemon) to purify your body, but pay attention to the quality of the water and vary with types of loose tea.


6. Move outdoors
An optimal method to stimulate your metabolism, to get rid of excess winter pounds and to get your body back in shape is regular exercise and preferably in the open air. Physical exertion makes you tired and satisfied and gives you new energy. And if you do this outside, you will discover that nature is completely ready for spring, just like you!


7. Adjust your eating habits
Create more energy by eating more consciously: choose fresh products, wash them carefully (pesticides) with a vegetable / fruit shampoo or make a solution yourself with water, (apple or natural) vinegar and baking soda. Try to make as many products as possible yourself (avoid 'instant food'). Eat many different types of fruit and vegetables so that your vitamin and mineral deficiency is eliminated. The more color, the better!