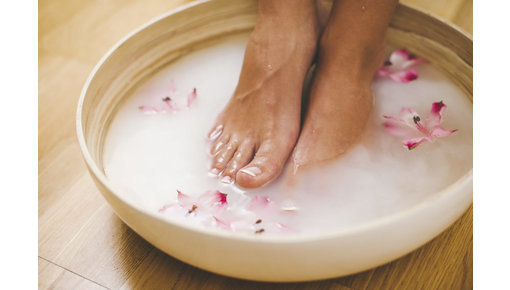 Foot Care
Our feet often have a hard time. Every day we take thousands of steps with them, we walk in towering heels or force them in too small, pinching shoes. For that reason alone they deserve good care.
Foot Care
Your feet are your "third kidney." Many toxins that your kidneys cannot excrete can pass through the feet. This is due to the difference in PH value. Many toxins are also excreted through the skin in the form of a rash, red spots or acne.
Foot bath with Dead Sea salt
To relieve the skin and help your body to excrete waste via the feet, you can regularly take a foot bath with Dead Sea salt. This also helps with athlete's foot, perspiring feet, swollen feet and cold feet. In addition, it works with many forms of skin rashes and bladder and kidney complaints. It can also provide support for detoxification and slimming cures.
For a foot bath, use half a cup of Dead Sea salt and water to the instep of the feet. You can also grind the salt with a mortar so that it is more easily absorbed by the water. You then dissolve it in hot water and supplement it with lukewarm water. Soak your feet for half an hour and then let them air dry.
Tip: drink a glass of water during and after the foot bath.
Prevent calluses and chapping
Scrub your heels 1-2 times a week to remove excess skin cells. Remove excess callus after every shower (then the skin is soft) with a pumice or lava stone.
Massage your feet daily with a moisturizing foot cream. Don't forget your cuticles and the space between the toes! Make sure the cream is absorbed well before putting on socks.
Prevent ingrown toenails
Always trim your toenails straight and file them afterwards.